Worldwide growth in nuclear power will power investment returns for investors
Emerging markets are driving the
growth in nuclear power
Due to environmental reasons, the West has all but given up on building new coal plants to generate electricity. Instead, huge investments are being made into alternative sources of energy, but this still is unlikely to make much of a dent.
So the big question is, with global demand for electricity expected to rise by 2.5 times over the next 40 years:
where is the future electricity of the Western world, and most of the developing world, going to come from?
Earlier in 2010, Professor Barry Brook, who holds the Sir Hubert Wilkins Chair of Climate Change at the University of Adelaide, stated:
"The need for nuclear energy is going to be driven not only by environmental concerns and the inevitable decline of fossil fuels, but by the rising contribution of electricity for transport and the growth of electricity-consumptive technologies, such as desalination".
Nuclear energy will increasingly satisfy increasing
electricity demand!
According to the World Nuclear Association (WNA), as of October 1, 2010, there are 441 nuclear reactors operating in 32 countries world-wide, including 104 in the USA. Interestingly, just 49 reactors started operation during 1996-2009! But that's soon to change.
Total capacity from these nuclear power plants stood at just over 376,000 MWe, with nuclear power generation accounting already for almost 14 percent of the world's electricity.
Growth in nuclear power plants to accelerate!
While, earlier in October, 2010, the UK government has given its 'backing' for the constrction of eight new nuclear power stations, which may be (or may not all become) operational between 2020 (at the earliest!) - 2025, the build-out of reactors in Russia, China, India and other emerging economies is were the accelerating growth in nuclear power is taking place.
The global nuclear-power industry is in the early stages of a multi-decade growth spurt similar to what the industry experienced in the late 1970s and '80s.
There is no escape that the world can deal with its energy requirements without a large expansion of nuclear capacity. And indeed this is what's starting to happen right now . . .
A major building boom is underway for nuclear capacity
According to the WNA, the number of reactors in construction, on order, planned or proposed, as of October 1st, 2010, is as follows:
58 reactors are in construction in 14 countries (at least: "first concrete for reactor poured", or major refurbishment under way),

152 are on order or planned (approvals, funding or major commitment in place) mostly expected in operation within 8-10 years)

337 are in the proposal stage (specific program or site proposals, expected operation mostly within 15 years)
This compares favourable with a year earlier when 52 reactors were under construction; 135 reactors where planned and 295 were proposed.
Where is the growth in nuclear power capacity taking place?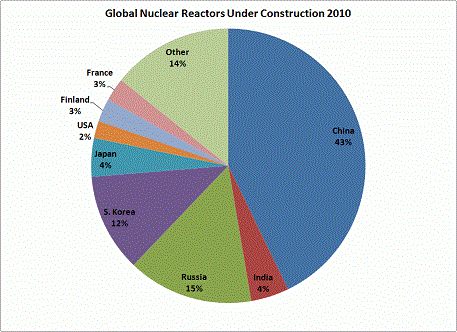 58 new reactors, with a total projected capacity of 60,484 MW, worldwide are at some stage of construction. Once completed, these new facilities would increase nuclear capacity by 16 percent.
As you can see, above, most of the plants under construction are in developing countries.
Globally, there are 152 planned reactors with total capacity of 167,401 MW - roughly equivalent to the capacity of existing reactors.
Emerging economies account for many of these planned reactors. In fact, China, India and Russia alone account for about half of the world's planned nuclear facilities.
Growth in nuclear power - The China factor . . .
While China is still building more coal-fired power stations, its recognition of the environmental damage they cause has already guaranteed that nuclear power will be a central platform of China's energy future.
China operates 11 reactors, and has 28 currently under construction with some of them coming on line in the next two or three years. The plants currently under construction will roughly triple the size of China's nuclear-power generating capacity.
Currently, the Chinese have about nine gigawatts of nuclear-generating capacity. By 2020, according to the World Nuclear Association, China intends to boosts output to 85 gigawatts, nine times its current capacity. However, earlier in November, 2010, it has been reported that China is boosting its goal for that year to 112 gigawatts.
Through September, 2010 China had imported 22 million pounds, four to five times as much as it needs this year, says MIT's Neff. He thinks that in addition to stockpiling the metal, China might plan to enrich and sell fuel to others. He says weekly uranium spot prices quoted by TradeTech and Ux Consulting mostly reflect Canadian producers and U.S. utilities, and don't include all the Chinese buying.
During the State Visit of French President Nicolas Sarkozy to China, earlier in November, 2010, a major Chinese utility signed a record agreement, worth 8 billion euros, with France's Areva to buy 20,000 metric tons of uranium over 10 years at $75 a pound - buying 35 percent of Areva's production of its South-African based UraMin mining operations.
With Russia, South Korea and India not far behind
Russia and India are also building their nuclear power capabilities.
Russia boasts 32 nuclear reactors with 23,084 megawatts of capacity, generating about 18 percent of its electricity.
As of Oct. 1, 2010, Russia had 10 new reactors, 9,000 MW of capacity, under construction. Once completed, these plants will increase the country's nuclear-power capacity by 40 percent.
That's only the first wave. Russia has roughly 16,000 MW of additional capacity in some stage of planning, while reactors with a further 28,000 MW of capacity have been proposed.
Earlier in December, 2010, South Korea's government released a preliminary long term energy plan that could result in the construction of up to 14 new reactors by 2024 in order to reduce dependence on fossil fuels and help meet growing demand for electricity.
If all 14 reactors are built, nuclear energy's share of South Korea's total electricity generation could rise from the current level of about 33 percent to nearly 50 percent. The government is expected to confirm the long term plans by the end of the year.
and India, which currently operates 19 reactors, has 4 reactors under construction and a total of 60 additional reactors proposed and planned. An added complication for India, when securing uranium is that Australia, host to the world's largest uranium reserves will not presently permit the export of uranium to India.
And what about the United Kingdom?
Unfortunately, there are several unrelated 'actions' conspiring against UK's energy 'security' during the next decade.
The UK is a signatory to the EU Large Combustion Plant Directive. When implemented in 2015, this will cause the closure of some 8,000 megawats of perfectly fine coal-fired plant in the United Kingdom.
In addition, all our current nuclear power plants, bar one, will need to close before 2020 because of safety concerns.
The removal of 1000's of megawats of power generation, due to the closure of both older nuclear plants as well as more upto date (dirty) coal-fire plants, may well be compensated if and when several new "cleaner" natural gas-fired plant projects are commissioned (soon?) and come on-line some two to three years later.
However, re-carbonising the energy mix with new natural gas-fired power plants contradicts with the Government's pledge to cut emissions (i.e. to 'de-carbonise' our energy needs) by 80 per cent by 2050.
Furthermore, it has already been mooted that some £200 billion is required over the next decade(s), to be spent on energy related infrastructure, as ageing power stations are closed, whilst smart grids and a balanced portfolio of low-carbon energy sources are created.
In the current economic situation, one may well wonder where all this money is going to come from. Anyway, a monumental task lies ahead, creating many opportunities for investors.
---
---
Return from this Page to Nuclear Power
Return from this page to Home page
If you came here via a search engine, you might want to go back to my main page on early retirement and investment
---