A niche uranium ETF solely focused on the most important uranium miners globally
The Global X Uranium ETF, trading under "URA", seeks to replicate the Solactive Global Uranium Index which is designed to track solely the performance of the largest and most liquid listed companies globally in
the uranium mining industry.
The Uranium ETF intend to invest at least 80% of its total assets in the securities of the Solactive Global Uranium Index companies and in depositary receipts based on the securities in the Index in approximately the same proportions as in the Index. The annual expense ratio amounts to 0.69 percent.
Why invest in an ETF tracker such as URA
Investing in a concentrated uranium mining ETF such as the Global X Uranium ETF is an easy way to get exposure to the sector. URA is a welcome addition for investors looking for general exposure to uranium miners interested in benefitting in the supply/demand dynamics of uranium coming out of the ground.
Regardless of where nuclear power plants are built, and who builds them, they will all need uranium and the increased demand that comes from these new plants is likely to create upward pressure on the uranium spot price helping all uranium miners.
URA's composition
Currently, the Uranium ETF is the most concentrated Uranium-themed ETF around. At launch - November 5th, 2010, it owned holdings in just 23 uranium miners and explorers. Follow the current composition of the Solactive Global Uranium Index.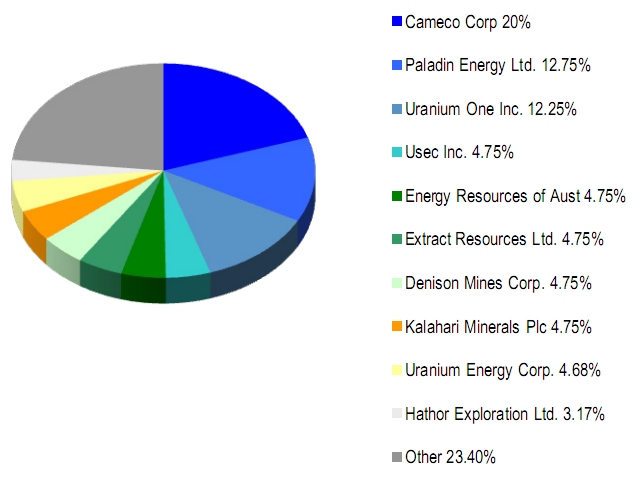 URA's largest holding, at launch, is the Canadian uranium miner Cameco, which accounted for 20 percent of the portfolio, while URA's number 2 and 3 holdings (Uranium One and Paladin Resources) make up another 25 percent of the Uranium ETF.
Interestingly, at launch, at the country level, URA shows only four countries, including:
50 per cent: Canada

31 per cent: Australia

13 per cent: the USA

4.75 per cent: the United Kingdom

1.25 per cent: other
When looking at the individual holdings at launch of the ETF, one can only surmise that the entire weight for the UK covers Kalahari Minerals PLC which is listed in London but mines various resources out of Namibia.
Also included in the Uranium ETF is Extract Resources - 41 per cent owned by Kalahari Minerals- , and several other miners with uranium activities in Namibia and elsewhere but which have their main listing in Australia.
Most of the holdings of URA are on foreign exchanges. Whilst listed on the New York Stock Exchange, with this ETF you obtain exposure to the international uranium mining industry without the hassle of foreign trading.
There are several other uranium mining and nuclear energy related trackers and ETFs that I am aware of each with varying amounts of uranium mining and nuclear energy exposure, including:
"NLR" which tracks the DAXglobal Nuclear Energy Index

"URAX" which tracks the World Uranium Total Return Index
"PKN" and "NUKE" which both track the World Nuclear Association Nuclear Energy Index
---
---
Return from this Page to Nuclear Power
Return from this page to Home page
If you came here via a search engine, you might want to go back to my main page on early retirement and investment
---